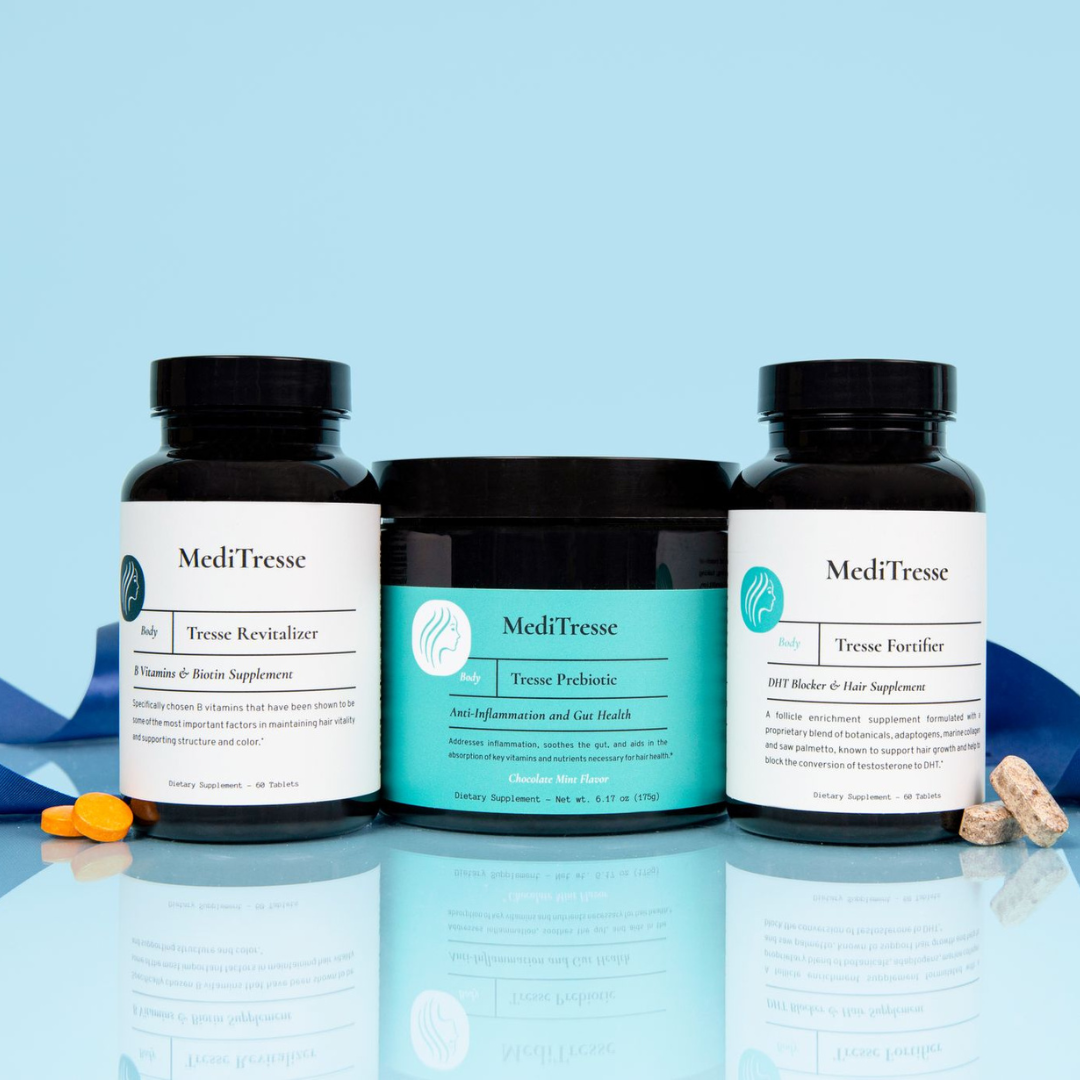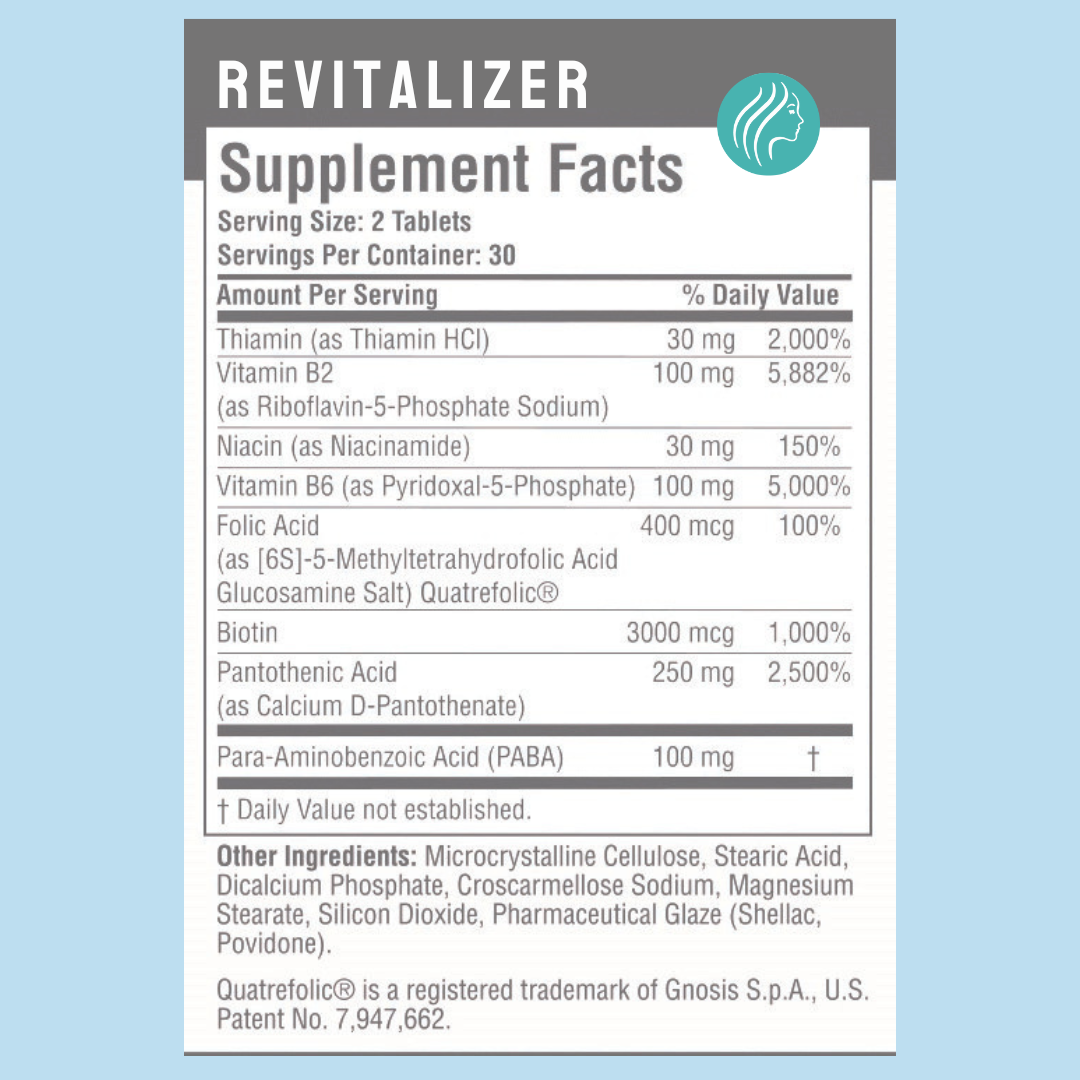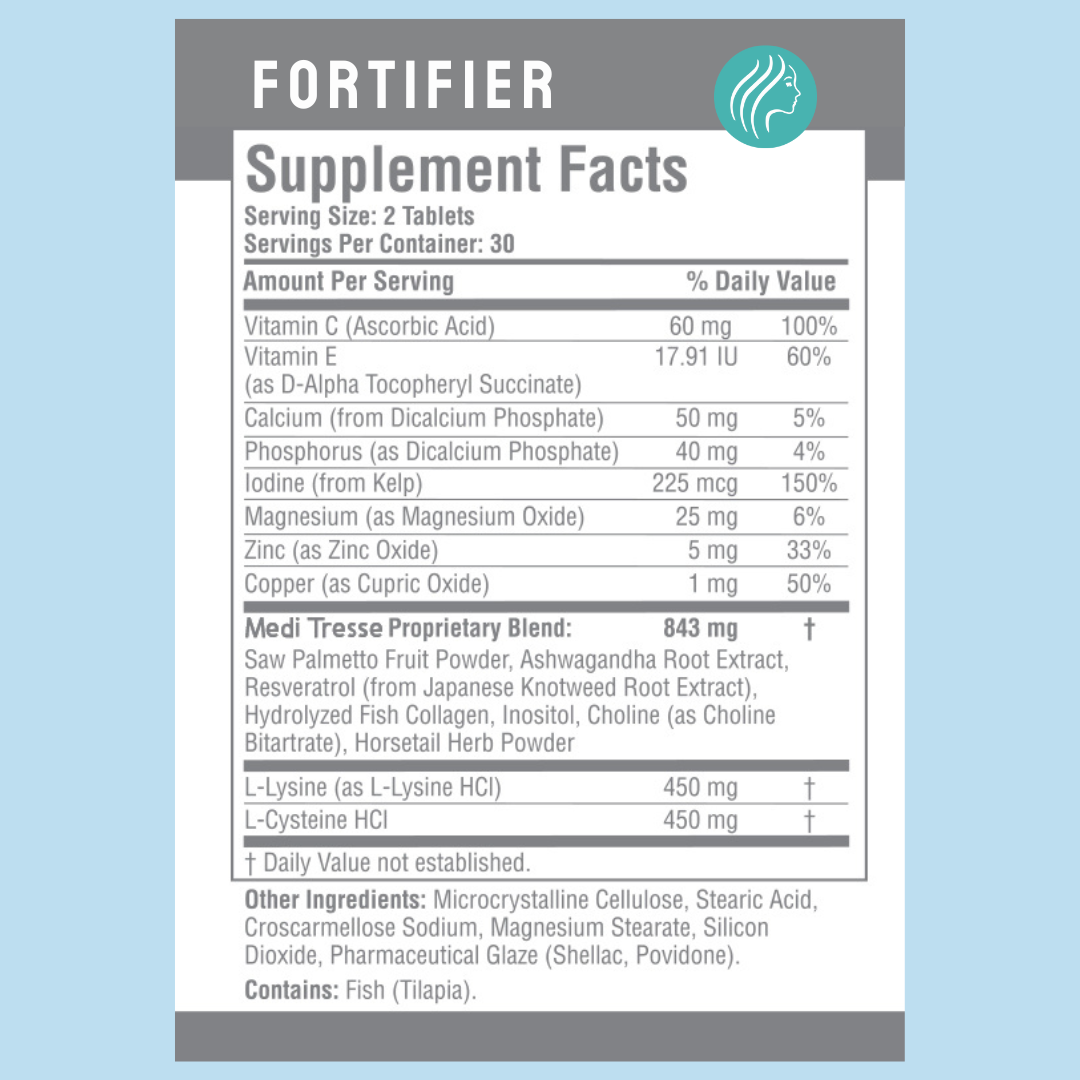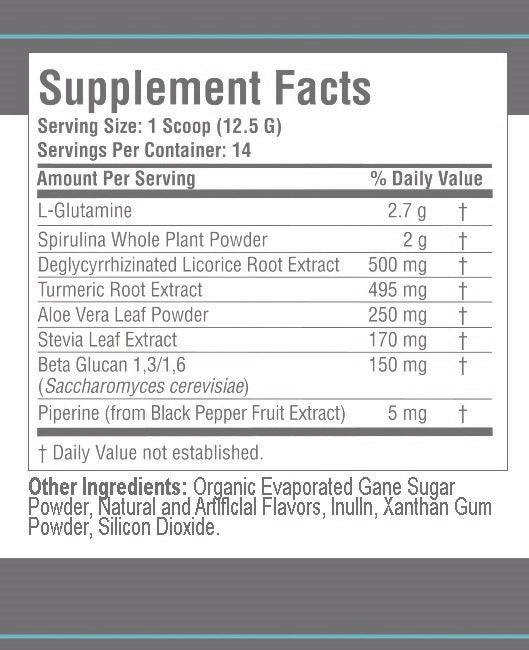 The Healthy Body Bundle by Medi Tresse – a revolutionary three-step oral program meticulously crafted by female hair loss medical experts to address the root causes of hair loss in women. Our bundle is designed to combat total body inflammation, starting in the gut, while nurturing your body with essential nutrients for stronger, longer, and fuller hair.
Bundle Components:
1. Revitalizer: Formulated to support the healthy metabolism of hair, skin, and nails, the Revitalizer is a powerhouse of multiple B vitamins and biotin. These key ingredients have been clinically proven to play a vital role in maintaining hair vitality, supporting structure, and enhancing color. We've selected the most active forms of each ingredient to ensure optimal absorption and efficacy.
2. Fortifier: Our proprietary blend of botanicals, adaptogens, marine collagen, and saw palmetto comes together in the Fortifier to enrich hair follicles and promote growth. Known for its ability to inhibit the conversion of testosterone to DHT – a factor in hair follicle shrinkage – the Fortifier is a crucial step in your journey to healthier, fuller hair.
3. Prebiotic: Addressing total body inflammation and promoting gut health, the Prebiotic aids in absorbing essential vitamins and nutrients necessary for healthy hair. With a delightful chocolate mint flavor, this supplement makes supporting your hair health a tasty experience.
Pilot Study Highlights:
Real People, Real Results – Our pilot study involved participants taking the Revitalizer and Fortifier supplements daily, along with one scoop of the Medi Tresse Prebiotic Powder every other day. No other treatments were administered six months prior to or during the trial.
Results at a Glance:
Over 75% of women reported a decrease in shedding within 60 days.
Within 90 days, over 75% of women reported improvement in overall hair growth.
After 120 days, 100% of women experienced an increase in the ratio of terminal hairs vs vellus hairs and an increase in average hair width per hair count measurements.
Choose the Healthy Body Bundle by Medi Tresse – an evidence-based, comprehensive solution developed by experts who understand the unique challenges of female hair loss.
Specifically formulated for the female anatomy.
The healthy body bundle provides nutritional support essential for growing healthier hair.
Healthy Body Bundle Pilot Study
More Growing, Less Shedding
At-Home Treatment Plan prescribed to participants for 120-days
Two each everyday
Revitalizer + Fortifier
Together they help your body:
Block the conversion of testosterone to DHT to prevent hair loss and stimulate hair growth.
grow stronger, healthier hair with a premier blend of complexed Vitamin B plus Biotin.
One scoop every other day
Tresse Prebiotic
Gut health is everything.
It helps your body control inflammation, better absorb nutrients into your body, and ultimatley grow healthier hair.
Healthy Body Bundle Pilot Study
Real People, Real Results
Participants were instructed to take the Revitalizer and Fortifier Supplements daily and one scoop of the Medi Tresse Prebiotic Powder every other day.

Participants received no other treatments 6-month prior to the beginning of the study or during the duration of the trial.

We tracked participants progress over 120-days.
Here are some of the results: Individual results will vary
Over 50% of Women
Reported improvement in the following after 120 days.
- stress levels
- sleep quality
- anxiety levels
- overall well-being
Get Your At-home Hair Loss Help
Nourish your body with the nutrients it needs to grow healthier hair from the inside out.
Third month- jury still out
Giving it one more month. For a while thought my shedding had decreased but yesterday and today were not so good so we'll see after a few more weeks.
Loving this bundle!
The healthy body bundle has truly transformed the state of my hair, after even 30 days I noticed growth! I love this because it's also giving me supplements that help other parts of my body like my skin. Consistently good & seeing great results. Chocolate mint is my fav!
One-month in and loving it!
The texture of my hair is softer, less hair in my brush, and overall I feel healthier. Will definitely continue using this product!
I love having this bundle as apart of my routine. I've seen consistent progress with my hair as well as in my hairline since taking the Healthy Body Bundle. I recommend taking before and after pictures so you can see the progress. It's truly amazing.